welcome⬩欢迎⬩bienvenue⬩bienvenidos⬩welkom⬩selamat datang⬩ברוכים הבאים⬩أهلا وسهلا⬩ยินดีต้อนรับ
At different times, I am working on different parts of the below, and for different projects/clients:
What is the name of this project?
tlTerm terminology software, TLex lexicography software, tlCorpus concordance software, tlDatabase etc. These applications are used for many different projects. TLex is specialized lexicography software; tlTerm is a specialized termbase editor. These are in C++.
Our "TLex Online" framework is mainly in PHP, which we've used to develop numerous dictionary and terminology websites for our clients, e.g. http://longman-hat.co.za/, OERTB (Open Educational Resource Term Bank), University of Stellenbosch, etc.
"WAT" is the 'Woordeboek van die Afrikaanse Taal' ('The Dictionary of the Afrikaans Language'). See http://www.wat.co.za/
What is it used for?
Commercial dictionary and terminology production and (Web, App, electronic, hardcopy) publishing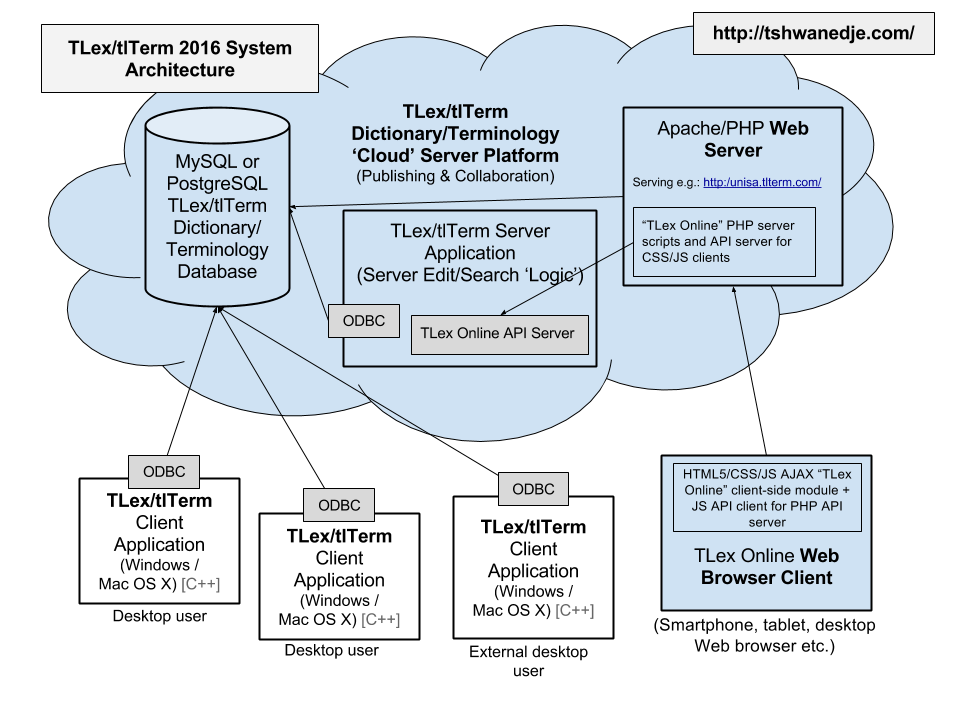 Features of TLex Online include multi-title support, multi-user support, integrated CMS, ability to integrate with payment gateways, a JSON-RPC style API, website localization support, dynamic meta-language customization, and an add-on architecture that can be used for extras likes games and activities.
Features of TLex/tlTerm etc. include, multi-user support, advanced search/filters, integrated scripting language (Lua), smart-styles, 'multiple editions from one database', smart cross-references (e.g. automatic homonym number tracking and updating).
How many weeks are you already working on it?
14 years
Which two main programming languages are you using?
C++; PHP
Which packages, libraries and APIs are you using?
wxWidgets; boost; Lua; libcurl; xerces; hdf5; CEF3
Is it a fun or commercial project?
Commercial
On which website can people test it and give feedback?
http://tshwanedje.com/beta/
Where do you need support?
Not presently applicable
Are you looking for team members?
Maybe
I am co-founder of TshwaneDJe Software and Consulting, and lead developer of a.o. TLex lexicography software, tlTerm terminology management software, tlCorpus corpus query software, and tlDatabase generic data editing software.
I'm also a part-time artist, focusing mainly on nude figure paintings and portraits.
I also have a few small open source games I wrote years ago: Still Yet Another Sokoban, Falling Blocks, Dave Gnukem etc.
Dave Gnukem source code repository: Dave Gnukem on github
The main other lead developer at TshwaneDJe Software is Malcolm MacLeod, and the other original company co-founder is Prof Dr Gilles-Maurice de Schryver.